Live Preview
Live Previews are available to any project that uses the TakeShape SSG. Live Previews allow you to see what your content will look like on your site without having to publish it.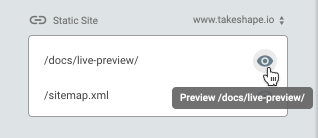 In order for live previews to appear the project's TakeShape SSG template must be deployed to TakeShape via the TakeShape CLI.
Previews instantly update whenever you save changes to your content. Every preview also has an auto-expiring link (good for 24 hours) that you can share with anyone.