Open Graph and Meta tags
Open Graph and Meta tags impact how consumers of your content will perceive a site when using a search engine and when your site appears on social media platforms. TakeShape gives you total control over the rendering and logic behind how these tags appear on a site. This recipe provides a basic implementation which you can modify and expand on to fit your specific needs.
Create a content type for site-wide defaults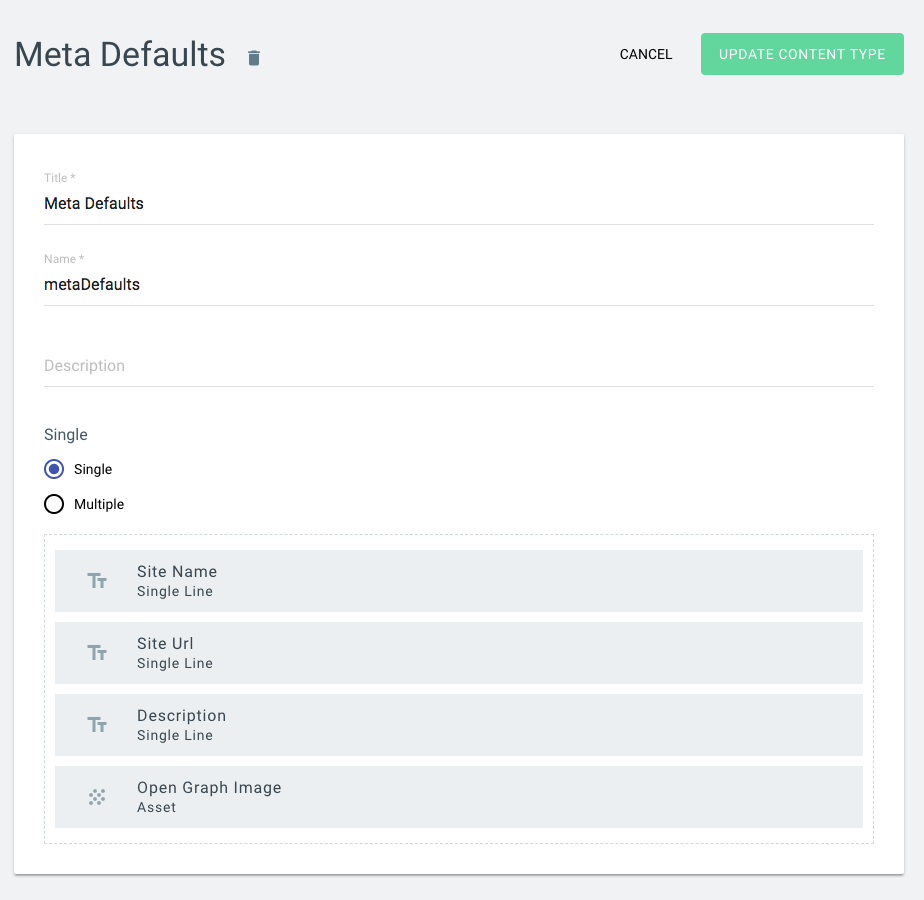 Add fields for meta content to appropriate content types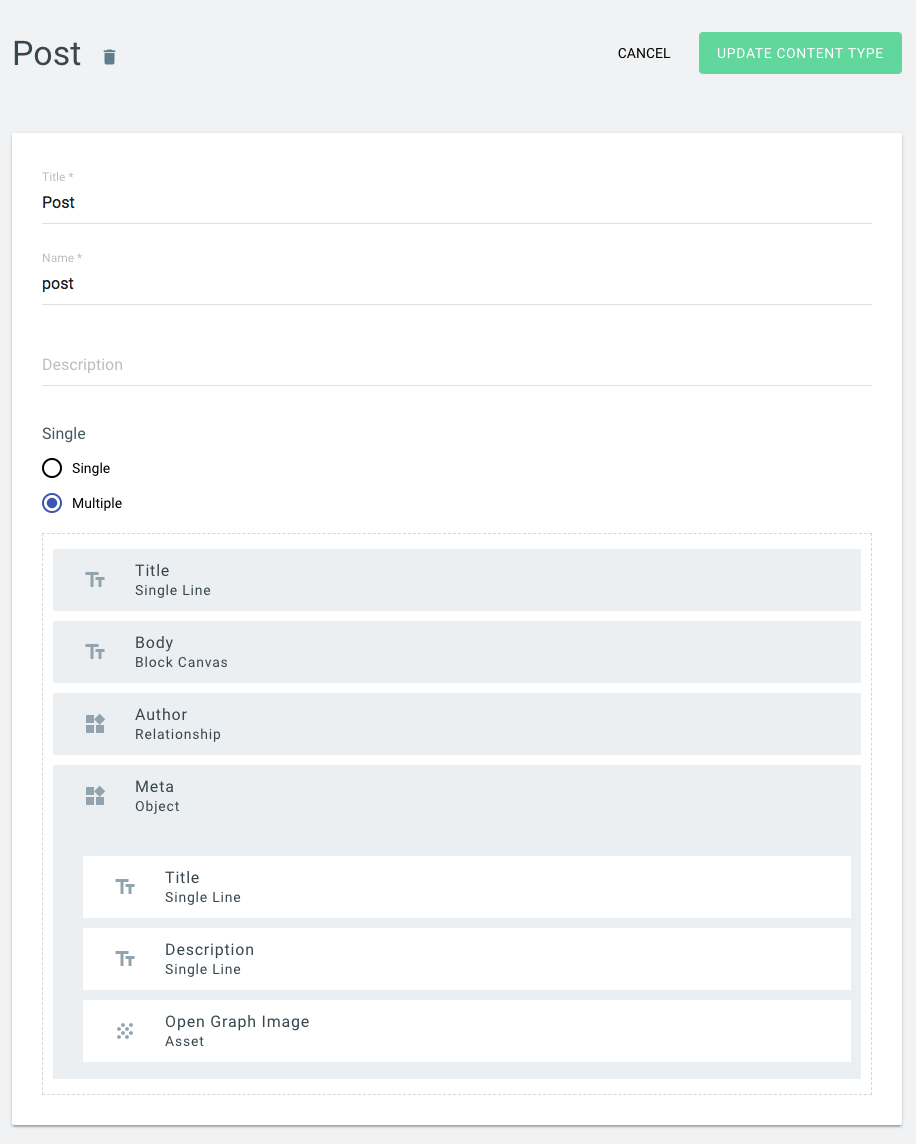 Modify templates to use the entry specific fields first and then fallback to the site-wide defaults.
{%

 

if

 

page

.

social

.

title

 

%}


    

<

title

>

{{

 

page

.

meta

.

title

 

}}

</

title

>


    <meta property="og:title" content="

{{

 

page

.

meta

.

title

 

}}

"/>


    

{%

 

elif

 

page

.

title

 

%}


    

<

title

>

{{

 

page

.

title

 

}}

</

title

>


    <meta property="og:title" content="

{{

 

page

.

title

 

}}

"/>


    

{%

 

elif

 

metaDefaults

.

name

 

%}


    

<

title

>

{{

 

metaDefaults

.

siteName

 

}}

</

title

>


    <meta property="og:title" content="

{{

 

metaDefault

.

siteName

 

}}

"/>




{%

 

endif

 

%}





{%

 

if

 

page

.

meta

.

description

 

%}


    

<meta name="description" content="

{{

 

page

.

meta

.

description

 

}}

">
    <meta property="og:description" content="

{{

 

page

.

meta

.

description

 

}}

">


    

{%

 

elif

 

page

.

bodyHtml

 

%}


    

{%

 

set

 

description

 

=

 

page

.

bodyHtml

 

|

 

striptags

(

)

 

|

 

truncate

(

)

 

%}


    

<meta name="description" content="

{{

 

description

 

}}

">
    <meta property="og:description" content="

{{

 

description

 

}}

">


    

{%

 

elif

 

metaDefault

.

description

 

%}


    

<meta name="description" content="

{{

 

metaDefault

.

description

 

}}

">
    <meta property="og:description" content="

{{

 

metaDefault

.

description

 

}}

">




{%

 

endif

 

%}





{%

 

if

 

metaDefaults

.

siteUrl

 

and

 

page

.

_contentTypeName

 

%}


    

{%

 

set

 

path

 

=

 

page

 

|

 

route

(

page

.

_contentTypeName

)

 

%}


    

{%

 

set

 

canonicalUrl

 

=

 

metaDefaults

.

siteUrl

 

+

 

path

 

%}



    

<link rel="canonical" href="

{{

 

canonicalUrl

 

}}

">
    <meta property="og:url" content="

{{

 

canonicalUrl

 

}}

">




{%

 

endif

 

%}





{%

 

if

 

metaDefaults

.

l

.

siteName

 

%}


    

<meta property="og:site_name" content="

{{

 

metaDefaults

.

siteName

 

}}

">




{%

 

endif

 

%}





{%

 

if

 

page

.

meta

.

image

 

%}


    

<meta property="og:image" content="

{{

 

page

.

meta

.

image

.

path

 

|

 

image

(

{

w

:

1200

,

h

:

630

,

fit

:

crop

}

)

 

}}

">


    

{%

 

elif

 

metaDefaults

.

openGraphImage

 

%}


    

<meta property="og:image" content="

{{

 

metaDefaults

.

openGraphImage

.

path

 

|

 

image

(

{

w

:

1200

,

h

:

630

,

fit

:

crop

}

)

 

}}

">




{%

 

endif

 

%}





<

meta 

property

=

"

og:type

"

 

content

=

"

website

"

/>