Taxonomies
Often you'll want to be able to use a taxonomy to organize content. You might call the organizational groupings categories, tags, topics or something similar. For this example we'll use the tag nomenclature. Taxonomies in TakeShape are just another type of content.
Create a Tag content type.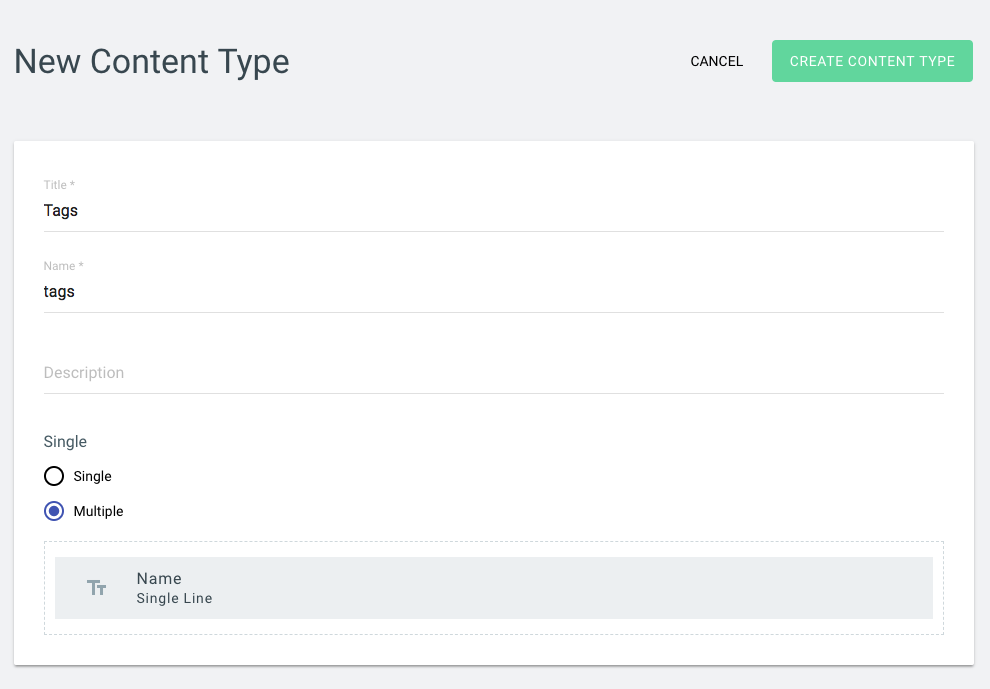 Create a relationship between content being tagged and the tag type just created.
*Make sure to set the relatedTo field
Add tags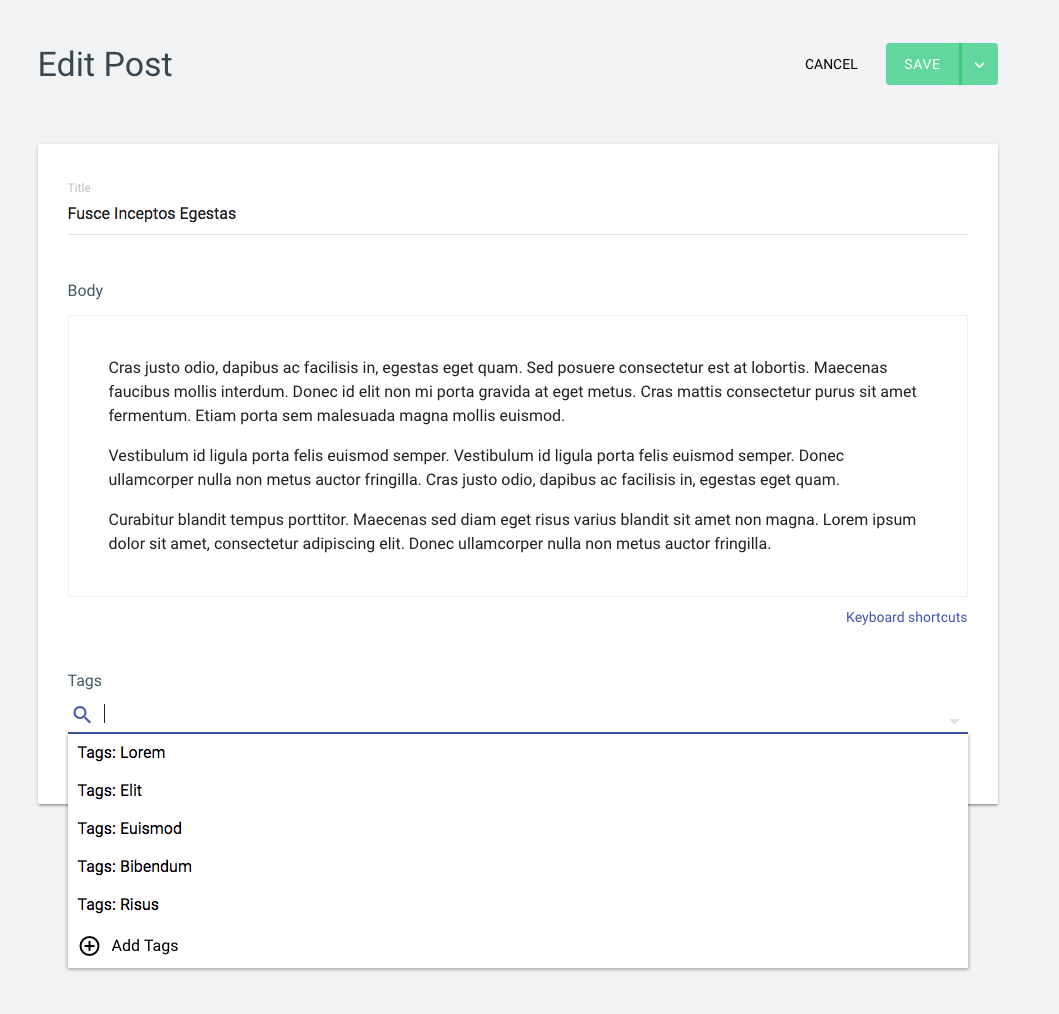 Query tags
{


  getTagsList 

{


    total
    items 

{


      name
      tagged 

{


        total
        items 

{


          title
        

}


      

}


    

}


  

}




}





{


  

"data"

:

 

{


    

"getTagsList"

:

 

{


      

"total"

:

 

5

,


      

"items"

:

 

[


        

{


          

"name"

:

 

"Lorem"

,


          

"tagged"

:

 

{


            

"total"

:

 

3

,


            

"items"

:

 

[


              

{


                

"title"

:

 

"Cursus Mollis Tortor"


              

}

,


              

{


                

"title"

:

 

"Porta Ligula Justo Purus"


              

}

,


              

{


                

"title"

:

 

"Fusce Inceptos Egestas"


              

}


            

]


          

}


        

}

,


        

{


          

"name"

:

 

"Elit"

,


          

"tagged"

:

 

{


            

"total"

:

 

0

,


            

"items"

:

 

[

]


          

}


        

}

,


        

{


          

"name"

:

 

"Euismod"

,


          

"tagged"

:

 

{


            

"total"

:

 

2

,


            

"items"

:

 

[


              

{


                

"title"

:

 

"Cursus Mollis Tortor"


              

}

,


              

{


                

"title"

:

 

"Porta Ligula Justo Purus"


              

}


            

]


          

}


        

}

,


        

{


          

"name"

:

 

"Bibendum"

,


          

"tagged"

:

 

{


            

"total"

:

 

1

,


            

"items"

:

 

[


              

{


                

"title"

:

 

"Cursus Mollis Tortor"


              

}


            

]


          

}


        

}

,


        

{


          

"name"

:

 

"Risus"

,


          

"tagged"

:

 

{


            

"total"

:

 

1

,


            

"items"

:

 

[


              

{


                

"title"

:

 

"Cursus Mollis Tortor"


              

}


            

]


          

}


        

}


      

]


    

}


  

}




}